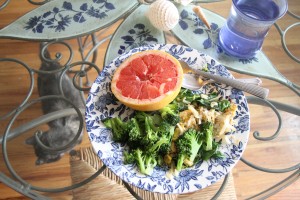 On a scale of 1-10, I rate the "diet/nutrition" part of my health choices at a 7.  However, depending upon to whom I compare myself, I may rank higher or lower.  And….because, I'm continually moving towards learning from others (be it through contrast or sameness), but comparing myself to myself, I stick with 7, in process to moving to 8, where I will then reevaluate and determine my next move.
Incrementally, which works better for me, I am adding more servings of vegetables to my daily diet, keeping carbs to a minimum, eating gluten only for worthy exceptions and doing my best to add fruit, which interestingly I like, but have a heck of a time eating consistently.  So, welcome to my new breakfast habit in motion.
Having set a goal to lose 10 pounds at a slow and steady pace over the next 12 weeks, but more so to have more living foods in my diet, my new TLS Slim site, where I am both learning about health, finding recipes, journaling and tracking my daily food, water, & exercise, advised me to eat 5-6 cups of vegetables, 2 servings of fruit, minimum 8 glasses of water, 3-4 oz protein per meal and 3-4 tablespoons of good fat to achieve my goals.
What I've discovered as I've been incorporating this incremental health improvement into my life is 1) when I stick to it, I noticeably feel a notch better.  2) when I allow myself to keep moving towards it without self-judgment and acknowledging my progress, I feel my commitment growing -because rather than condemnation for missed action steps, I am celebrating my new habits being formed.  And, I have a knowing that they will be more sustainable for me in the long run.
Sometimes I do just "pull the band aid" off or "jump in the water", but when it comes to food, a step by step approach works better for me.  So, I appreciate the support of modern day technology to support me with information and accountability and myself to do what it takes to continue progressing forward.    I'm also fascinated that just after launching my new incremental commitment to "me", I happened upon "crowding out" a new term in the "getting healthy" conversation that is "an effective way to overcome habitual consumption of unhealthy food."
According to the Institute for Integrative Nutrition, the principal of crowding out suggests that you add more to your diet, instead of taking away. By adding healthy, whole foods such as fruits, vegetables and grains, you will crowd out the unhealthy foods. The body can only take so much food. If you fill the body with healthy, nutrient-dense food, it is only natural that cravings for unhealthy foods will lessen substantially.
And, as serendipity would have it, which I love, I was doing it on my own without realizing there was a "name" for it, so to discover the name after the fact was a delight.  It made me feel like our inner voice really does know because it informed me even before I discovered it was a concept that others had also discovered and now named.  Fascinating, an exploration for a future blog post.
For today, knowing we all have a "knowing" and a body that is guiding us to what it needs, I encourage us all to either keep listening or pause to begin to listen to what our body and our voice is telling us.  Diet is definitely only one slice of the holistic health pie, and for me includes other key elements of physical, mental, emotional and spiritual nourishment, but it is a very important one.
In the spirit of our individual and collective health and well being improving, what healthy food habit are you ready to add to your daily routine and begin to repeat until it crowds out your unhealthy food habits at a pace that fits for you?  What support do you need to do this?  And, what step are you going to take?