40 Things.  What if you were told one day that you could only have 40 things in your day-to-day life for a week?  What would you choose: clothes, socks, underwear, pot, plate, keys, car, TV, computer, lipstick, purse, bucket?  Only one trash can?  (Would that mean extra steps every time you needed to throw something away? Would that matter?)  How would you choose?  What would be the purpose of limiting yourself to these items?  Is it possible that doing such an outrageous activity could enrich your life somehow, rather than restrict it?
Well, meet Michelle, Anna and Lindsay, three young Twin Cities women who did just that. One week of 40 items, aka Poor Week and one week of "sky's the limit," termed Rich Week (for simplification purposes only, as in fact the name didn't sit quite right.) And, ironically as both a paradox and an aha, challenging and rewarding, they found "rich and poor in both weeks."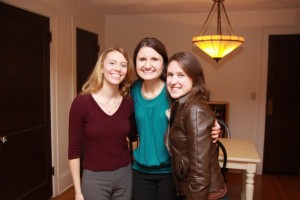 So, let's look at a few specifics and greatest take aways that may also serve as an inspiration for you to create your own personal growth adventure. Specific number one about Poor Week: 1) Examples of forsaken items on their individual lists of 40 items included no music, no TV, no computer (except for work), no jewelry, no perfume, no items of attachment, no texting, and unintentionally no cleaning because no one put broom on their list.   2) Examples of what was on their lists were: one pair of socks, one outfit, one book, a bowl, a pan, a pen  (what would be more important, a microwave or a pen?), a bucket, (for laundry), and $15.00 for weekly allowance (hmmm…$12.00 for Lindsay after a $3.00 movie and a shocking discovery that even at Cub, $12.00 does not go very far).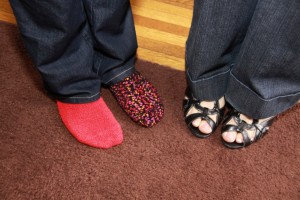 What was challenging in Poor Week? Going to the grocery store; knowing what to do after work (which for Anna was either reading or sleeping or just hanging out because socializing was limited) and no cleaning-due to the unintentional omission of the broom, eating Ramen noodles-the end result of the $12.00 grocery budget; wearing the same thing all the time; not wearing perfume; not texting and living with one pair of eventually stinky socks.   For Michelle it included sticking within 40 items. She estimates she went over by at least 15.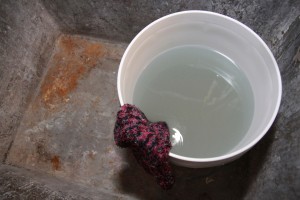 All of that said, some of the rewards and riches included the following: Because of no texting, Lindsay had more time to reflect and notice how much people are so distracted by phones, computers etc… that they may miss their own thoughts, self discovery and creativity that started to surface when given the space.  She herself found more time for the latter.  She also learned to really appreciate all that she does have and in fact ended up feeling very rich as she appreciated each item on her list and having an unlimited number during Rich Week.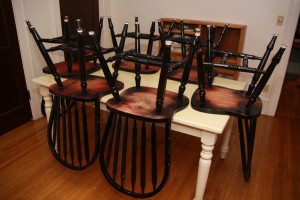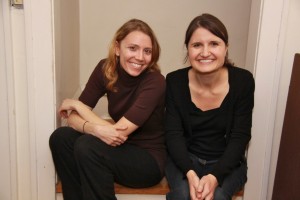 For Anna, she found the simplicity of poor week freeing through caring less about what other people think, being less attached to things, realizing the value of walking in another's shoes and a great appreciation for all that she does have.
Michelle's riches in poor week were the peacefulness of no music in the car, hearing herself think, simplifying the clutter and slowing life down a bit.  Her list allowed her to fill her life with further riches of fellowship and good books.
Rich Week, which initially meant always having to look nice in public, wearing whatever they wanted, going out to eat, regaining all of their restricted items from poor week & living it up however they so chose, (but, also not sitting quite right), was expanded to include a reminder of the importance of acts of service to others rather than pure ostentatious living.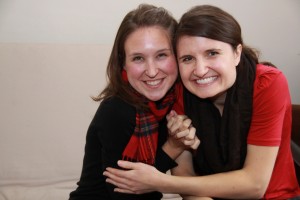 Some of the poverty in Rich Week they found unexpectedly was in the "lack of freedom" in having to always look nice, having more complexity and busyness in life and the remembrance that some people live continuously in Poor Week without the option to transition to Rich Week.
Riches of Rich Week definitely included having returned access to their worldly goods, comforts and foods. However, it was also the deep reminder of the joy of giving when having more to give, the gratitude for their friendship, and realizing the importance of not taking their "things" or life for granted.   And, that in just resuming their normal lives, they were living Rich Week.
Biggest aha gained from living in both classes was that there are good things to both, hard things to both, judgments of both and that walking in another's shoes, even if not perfectly, can open your eyes to realizing all that you have and becoming a better you.  A final take away that has been since incorporated into their shared lives is continued collaborative personal growth adventures and application of their learning into their daily choices.  Hat's off to you ladies, may your story inspire others to their own journey of bettering themselves and their lives, continuing the spiral of others who inspire others who inspire others and so on………
Until the next adventure.